Project Management Tool Comparison
by Kriss on Nov 29, 2021 11:19:20 AM
Clickup vs Asana vs Trello
"A project is complete when it starts working for you, rather than you working for it"
Scott Allen
Efficient And Profitable Project Management
Structuring your own online education business in a goal-oriented and meaningful way is not easy, is it? I know this all too well!
To work efficiently on your tasks and thus ensure sustainable business growth, it is therefore essential to have a good project management tool at your side. It keeps an eye on your business at any time, whether that's a new social media post, the next YouTube video, the weekly meeting with your employees, or writing and sending those invoices.
Because every business and project has different requirements and tasks, it's especially important to have the foresight to find a project management tool that meets your company's needs.
Basic questions you can ask yourself for your choice are for example:
What areas are important to the organization of my online business (team management, marketing, project planning, automated workflows)?
What is currently holding me and/or my team back from being efficient?
What would help me and/or my employees increase productivity in daily work routines?
To help you decide which project management tool is right for you, we have compared three major platforms and compiled a detailed overview for you - mepreneur secret tips included as always ;-).
1. Project Management Tools At A Glance
"One app to replace them all. All your work in one place: Tasks, docs, chat, goals, & more."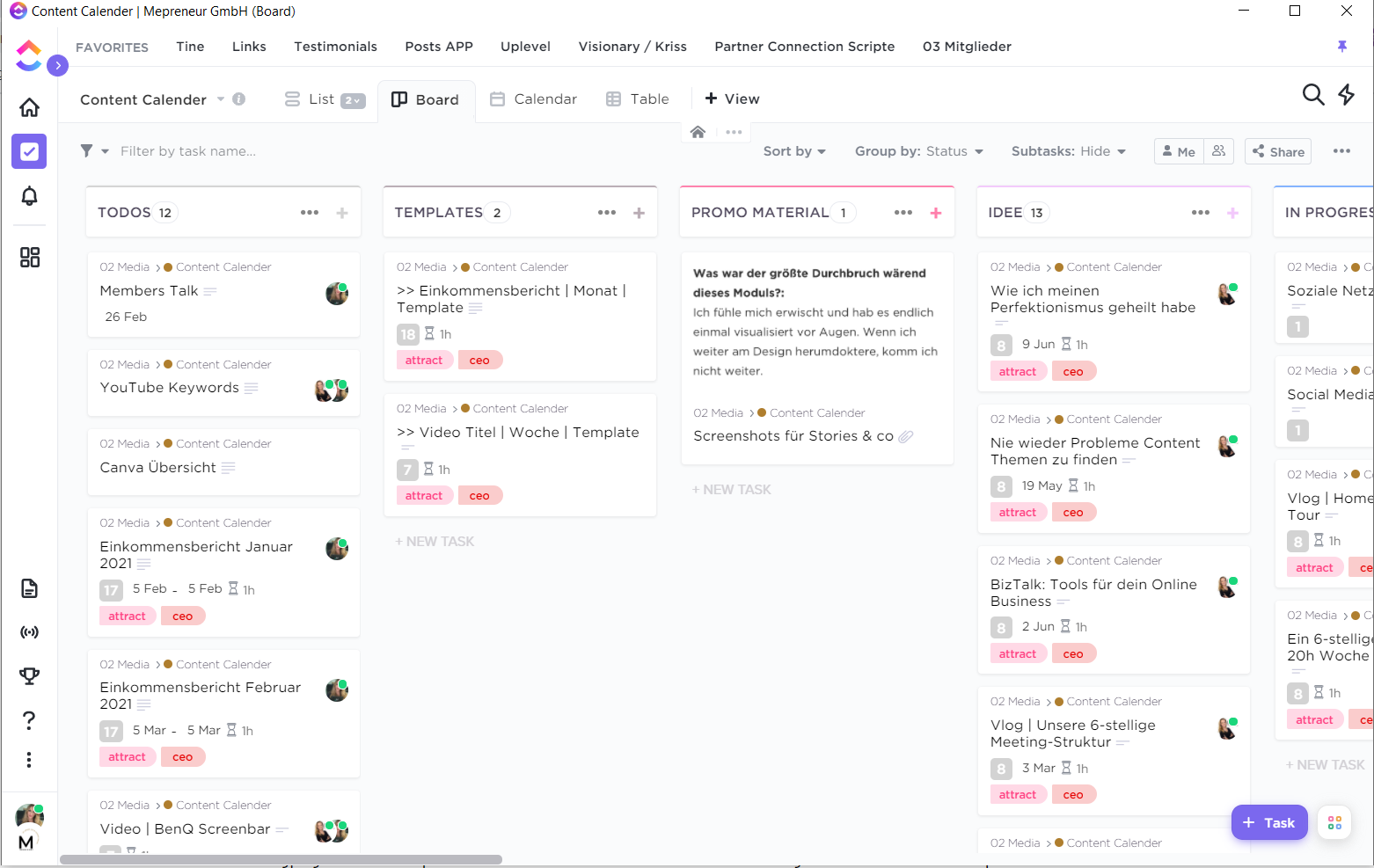 With ClickUp, you get much more than a pure project management tool. Their goal is to simplify your project-related workflow with one tool. ClickUp can plan your tasks, set goals, create documents, record desktop videos, and write messages to other team members with various folders and views, such as the calendar or list view.
With its numerous functions, ClickUp may not be the easiest to use at first, but after a training period, it is clearly an absolute power tool that can save you a lot of time. That's the way we like it at Mepreneur, which is why we also chose ClickUp as our project management platform :-).
OUR TIP: In addition to numerous guides and explanatory videos related to its project management functions, ClickUp also provides a large pool of valuable knowledge on the topic of productivity and how to work efficiently.
Our First Impression
With its minimalist-clean design, ClickUp's landing page looks highly professional at first glance and, thanks to numerous insights into the tool interface, you quickly get a good idea of what is possible with the tool - literally everything!
The fact that the website is in English does not bother us much, because the individual possibilities of the tool are understandable. It does appear that ClickUp was created for larger online companies, especially with regard to team collaboration.
If you want to organize your projects and your employees' tasks, ClickUp is the perfect platform for project work management!
Asana:
---
"Make big ideas happen, without unnecessary effort. Whether it's individual tasks or large projects, Asana organizes your work so it's clear to everyone what needs to get done, why, and how."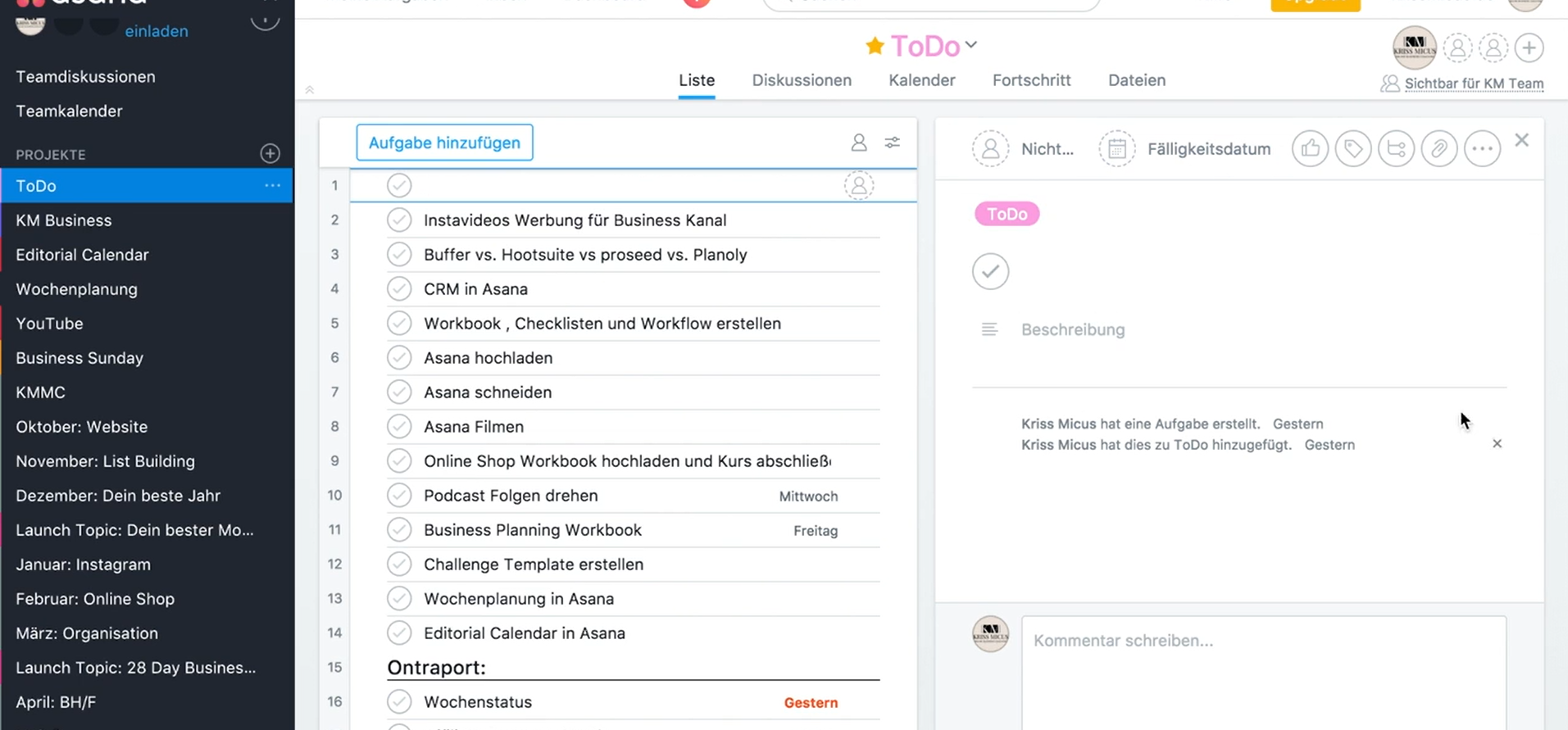 Asana is all about transparency. This project management tool assists with employee management and efficient collaboration on team projects. Tasks, plans, and goals can be organized in three different views so that every team member knows what is needed when.
With Asana, you can create individual workflows, like onboarding new employees and other important processes for your team, and will save you a lot of time in the long run with their automated processes.
In order to keep an overview of the numerous tasks for different projects and employees, the tool offers you a real-time view of your information so you can monitor each individual's work on each project. You will be able to promptly identify possible problems and keep your online education business on the road to success at all times.
Our First Impression
A quick look at the tool interface gives you a good impression of what the project management tool has to offer. Unlike ClickUp, the entire website is in several languages, which makes it easier to get started. The platform appears professional, well thought out, and clearly presented. Every function you would expect from a project management tool is provided. If you don't have employees (yet), you might feel a bit out of place, since the tool is geared for team project collaboration, but you can still use the tool as a single entrepreneur successfully working on your online education business :-).
Our Tip: Asana also offers free articles, videos, and webinars on work management, in addition to tips about the tool itself.
Trello
---
"With Trello, teams can collaborate better and get more done: Trello's boards, lists, and cards let teams organize and prioritize their projects in a fun, flexible, and rewarding ways."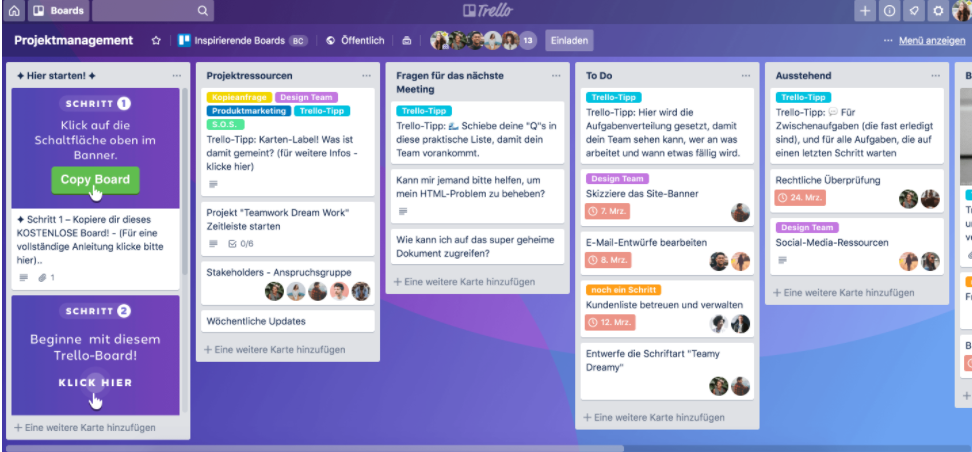 Whether it's a private hobby project, your family vacation, or your online business projects, Trello is for personal and professional planning for processes and projects. The Business Class version focuses on work, team, and project management. Overall, the tool takes a rather simple and playful approach to the topic, which can support your organization and productivity in everyday business without a long training period. Due to a lack of professional project management specialization, you can reach the usefulness limitations as the range of functionality is significantly less compared to other specialized project management tools like ClickUp or Asana.
Depending on your requirements for a project management tool, this can be the decisive reason for or against Trello. The most important thing is that it supports you in your daily work and checking off your to-dos, without limiting you!
Our First Impression
At first glance, Trello looks a bit like a digitalized to-do list. Unfortunately, you don't get much more insight into the tool interface on their landing page. You will need to look in their guide.
It can be irritating that they do not have a header navigation bar on the page, especially if you are visiting the website for the first time or are new to project management. The website is in different languages, which is a big plus. No question, in direct comparison to power project management tools like ClickUp, Trello can't keep up.
However, if you are looking for a simple and clear tool that helps you with daily business tasks, plans, and goals, you certainly can't go wrong with Trello. And sometimes, as we all know, less is more :-)
Guide - An Introduction to Trello Basics
>> View Trello Introduction <<
2. Which Platform Is Best For You?
ClickUp = All-in-One Project Management Platform
---
ClickUp is particularly well suited for your project management needs if you:
Take your business planning & productivity to the next level
Organize workflows individually & highly professionally for your entire team
Want to have your entire team and project management in one place


Asana = Professional Project Management
---
You should choose Asana if you want to:
Customize your creative project workflow at any time
Track your project status & progress in real-time
Manage your project and/or team transparently in one place
Trello = Digitized to-do List
Trello = Digital To-Do List
Trello is your project management platform if you want to:
Keep your planning clear, but simple
Focus on the project related to-dos
Want to run your business (still) without a team.
3. Costs And Options Comparison
---
4. Platform Comparison
---
5. Conclusion
---
Finding the right project management tool is crucial for productivity, and success. Nothing is more counterproductive than letting your organizational chaos and to-do list madness keep you from realizing your plans and goals!
To be sustainably successful with your online business, you need to use your daily working time in an efficient and goal-oriented manner. This will strategically advance your business and allow you to be there for your customers. Spending that time on organizational stuff (and believe me, it will grow as your business grows!), won't do you or your customers any good. That's where project management platforms help.
Take some time to learn which tool is right for you, save it, and focus on the core of your online education business.
Hope that helps.
Yours Kriss